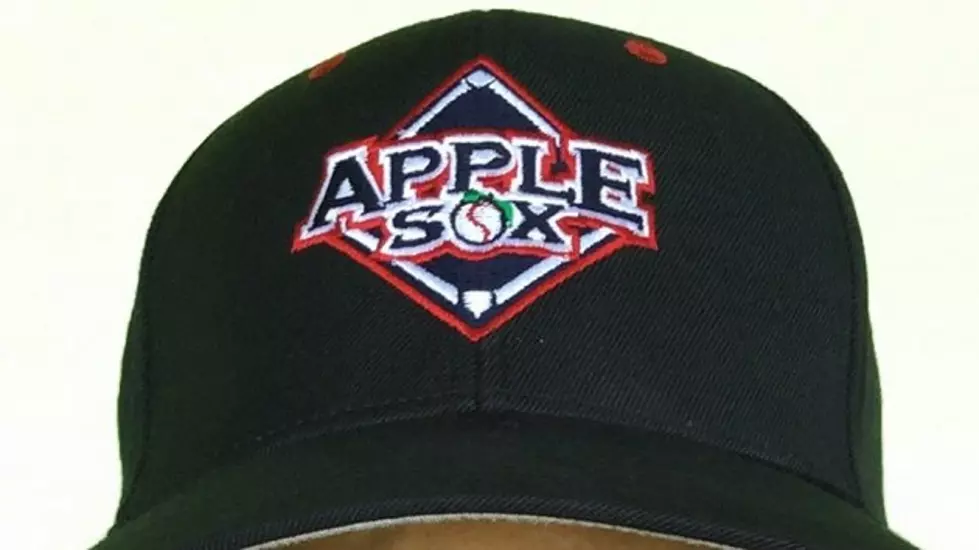 7 Wenatchee AppleSox Players Earn All-WCL Honors
West Coast League Baseball Commissioner Rob Neyer announced the All West Coast League Teams Thursday and seven Wenatchee AppleSox were selected including first team honors for Frankie Carney.
The UC Irvine freshman was the 1st Team All-WCL selection at 2B
A pair of Wenatchee pitchers were named 2nd Team All-WCL selections; starting pitcher Toby Haarer (Central Arizona, sophomore) and relief pitcher Jadon Williamson (Lewis-Clark State, junior)
Four additional AppleSox players earned Honorable Mention All-WCL selections; Ryan Martinez (Univ. of the Pacific), Evan Canfield (Edmonds College), Brandham Ponce (Washington State), Michael Cunneely (Gonzaga)
Yakima Valley Pippins Jack Phelan was named MVP and the Edmonton Riverhawks  Halen Knoll was selected as Pitcher of the Year.
Here are the complete All-WCL Team Rosters  The class represents their spring 23-24 season status
First-Team All-WCL
C – Luca DiPaolo (USC, sophomore), Bend Elks
1B – Jace Phelan (Gonzaga, junior), Yakima Valley Pippins
2B – Frankie Carney (UC Irvine, freshman), Wenatchee AppleSox
3B – Jake Tsukada (Hawaii, senior), Ridgefield Raptors
SS – Jack Metcho (Univ. of the Pacific, sophomore), Portland Pickles
OF – Ben Parker (William & Mary, senior), Walla Walla Sweets
OF – Sam Stem (Gonzaga, sophomore), Corvallis Knights
OF – Aidan Espinoza (UCLA, freshman), Walla Walla Sweets
Util – Ethan Hedges (USC, soph), Corvallis Knights
DH – Dalton Mashore (Saint Mary's, senior), Portland Pickles
SP – Halen Knoll (Edmonton Collegiate, senior), Edmonton Riverhawks
SP – Ryan Beitel (Univ. of British Columbia, senior), Bellingham Bells
SP – Riley Barrett (Arizona State, freshman), Edmonton Riverhawks
SP – Tucker Grote (Oklahoma Wesleyan, senior), Bend Elks
SP – Dylan Stewart (Pepperdine, sophomore), Ridgefield Raptors
RP – Sean Wiese (Arizona Christian, senior), Corvallis Knights
RP – Andrew Pinedo (Hope International, junior), Nanaimo NightOwls
RP – Logan MacNeil (Campbellsville, junior), Victoria HarbourCats
Second-Team All-WCL
C – Michael Easter (Azusa Pacific, junior), Nanaimo NightOwls
1B – Tyler Davis (Fresno State, junior), Victoria HarbourCats
2B – Roberto Núñez (Embry-Riddle, junior), Port Angeles Lefties
3B – Tyler Quinn (Utah, senior), Corvallis Knights
SS – Hudson Shupe (Gonzaga, sophomore), Victoria HarbourCats
OF – LeTrey McCollum (UCSB, junior), Cowlitz Black Bears
OF – Riley Paulino (U. of Pikeville, junior), Nanaimo NightOwls
OF – Andrew Valdez (Fresno Pacific, senior), Bellingham Bells
Util – Griffin Palfrey (Columbia, junior), Kelowna Falcons
SP – Blake Hammond (Northwest Nazarene, sophomore), Ridgefield Raptors
SP – Merit Jones (Utah, sophomore), Corvallis Knights
SP – Toby Haarer (Central Arizona, sophomore), Wenatchee AppleSox
SP – Sam Hall (Panola JC, sophomore), Kelowna Falcons
SP – Colby Scheuber (Grays Harbor College, sophomore), Port Angeles Lefties
RP – Davis Franklin (U. of Puget Sound, junior), Victoria HarbourCats
RP – Jadon Williamson (Lewis-Clark State, junior), Wenatchee AppleSox
RP – James Trimble (Texas A&M-Corpus Christi, sophomore), Bellingham Bells
Honorable Mention All-WCL
Bellingham: Will Armbruester (Arizona State), Daniel Paret (Stetson), Will Franklin (Edmonds College), Carter Parcher (CSU-Bakersfield), Tomas Urbina (Incarnate Word)
Bend: Kellan Oakes (Oregon State)
Corvallis: Blake Avila (Grand Canyon), Ty Yukumoto (Pacific), Zach Johnson (Utah Valley), Nathan Marshall (Lane CC)
Cowlitz: Chris Brown (USC), Kai Francis (Gonzaga), Jase Schueller (Vanguard), Kyle Ethridge (Northwest Nazarene), Gavin Ludlow (Linfield)
Edmonton: Tom Poole (Dallas Baptist), Jonny McGill (British Columbia), Dallin Harrison (San Diego), Tommy Takayoshi (Fresno State), Matthew Ridsdale (U. of Alberta)
Kamloops: Cooper Neville (Grand Canyon)
Kelowna: Jonas Salk (Univ. of Portland), Troy Shepard (Spokane Falls CC) Koen van 't Klooster (Panola JC)
Nanaimo: Ethan Rivera (Cal State San Marcos), Elijah Ickes (Hawaii), Jakob Fleury (Skagit Valley College), Payton Robertson (Arizona Christian)
Port Angeles: CJ Lewis (Jackson State)
Portland: Naighel Calderon (Hawaii)
Ridgefield: Justin Stransky (Fresno State), Trent Prokes (Cumberland), Charlie Royle (Cal Poly)
Springfield: John Over (Linfield)
Victoria: Dallas Macias (Oregon State), Nick Dumesnil (Cal Baptist), Jack Seward (Central Arizona), Jack Johnson (Baylor), Russell Young (British Columbia), Michael Crossland (UC San Diego)
Walla Walla: Kennedy Hara (Colorado Mesa). Payton Knowles (Gonzaga), Zach Hangas (Ottawa)
Wenatchee: Ryan Martinez (Univ. of the Pacific), Evan Canfield (Edmonds College), Brandham Ponce (Washington State), Michael Cunneely (Gonzaga)
Yakima Valley: Zack Blaszak (Montana State-Billings), Jackson Betancourt (Montana State-Billings), Tommy Eisenstat (Gonzaga)