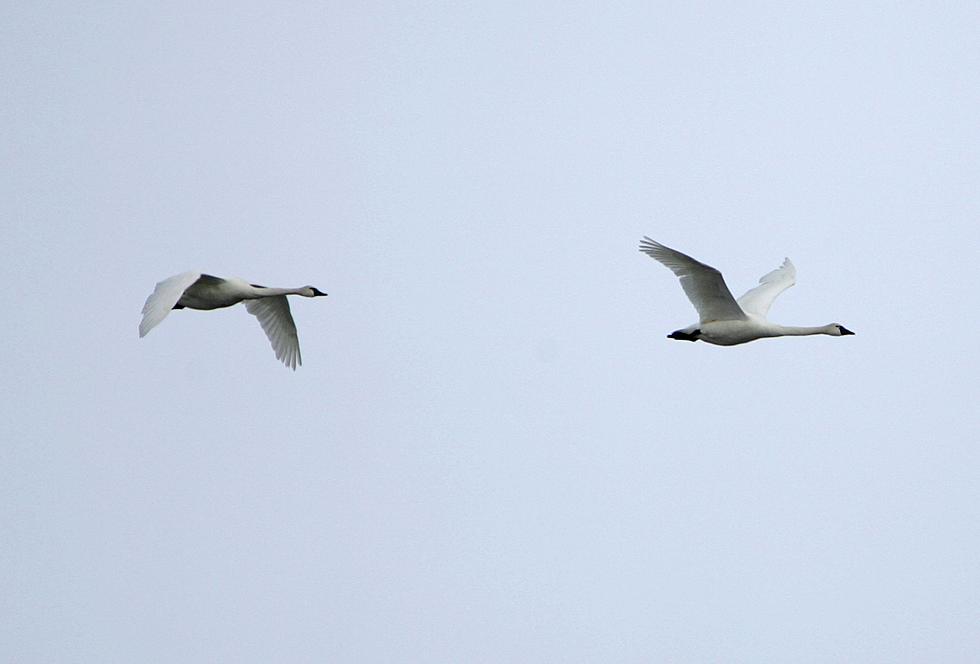 WDFW: Lookout For Sick, Injured Migratory Swans
Trumpeter Swans Getty Images
Trumpeter swans are completing the migration from their summer ranges in Alaska and  Northern British Columbia.  Many will winter in Skagit, Whatcom, Snohomish and other counties in Western Washington and the Washington Department of Fish and Wildlife (WDFW) says the public may find sick, injured or dead birds.
WDFW wants the public to report any cases of dead birds or those in distress as part of the departments efforts to track lead poisoning from lead shot that was banned for waterfowl hunting in 1991.
Trumpeter and tundra swans can forage is shallow bodies of water or fields where lead pellets may still be present.
People can call a new number to report findings statewide at 360-466-0515 to report swans that have died or need help.  Trumpeter and tundra swans can be found wintering outside of western Washington.
"If you see a sick, injured, or dead swan, do not handle or collect the bird; call the reporting hotline right away." said Kyle Spragens, WDFW waterfowl section manager in a press release.
SANDHILL CRANE VIEWING NEAR OTHELLO
Columbia National Wildlife Refuge (NWR) was established in 1944 as a feature of the Columbia Basin Irrigation Project. The refuge is just south of Potholes Reservoir, northwest of the town of Othello. It includes several reaches of lower Crab Creek, the longest creek in the United States.
The Corfu area, 12 miles west of Othello, south of Route 26, is the best area for viewing Sandhill Cranes in March and early April, and the woodland along Corfu Road is excellent for migrant songbirds in May. Royal Lake has abundant waterfowl from October to April
To get there, exit I-90 at the Vantage Bridge over the Columbia River, and continue 41 miles east on Route 26 to Othello, where the NWR office is located. Pick up a map at the office. Birding is most productive from March to June and during September, before the seasonal closure of about 2/3 of the refuge from October through February.
What Birds Can You Expect To See?
Bird Web says migrating Loggerhead Shrike, Say's Phoebe, Western Meadowlark. Western Canada Geese, Mallards are abundant in winter. Great Egrets, Black-crowned Night-Herons, and Great Blue Herons are common visitors from the nearby Potholes Reservoir.
American Bitterns and White-faced Ibises are occasional early-summer visitors.  Lazuli Buntings, Yellow-breasted Chats, Eastern and Western Kingbirds,  Bullock's Orioles are numerous.  The croplands attract Canada and Cackling Geese.
The big draw is the largest concentration of migrating Sandhill Cranes found in the Pacific Flyway. Crowds flock to the annual Othello Sandhill Crane Festival in late March