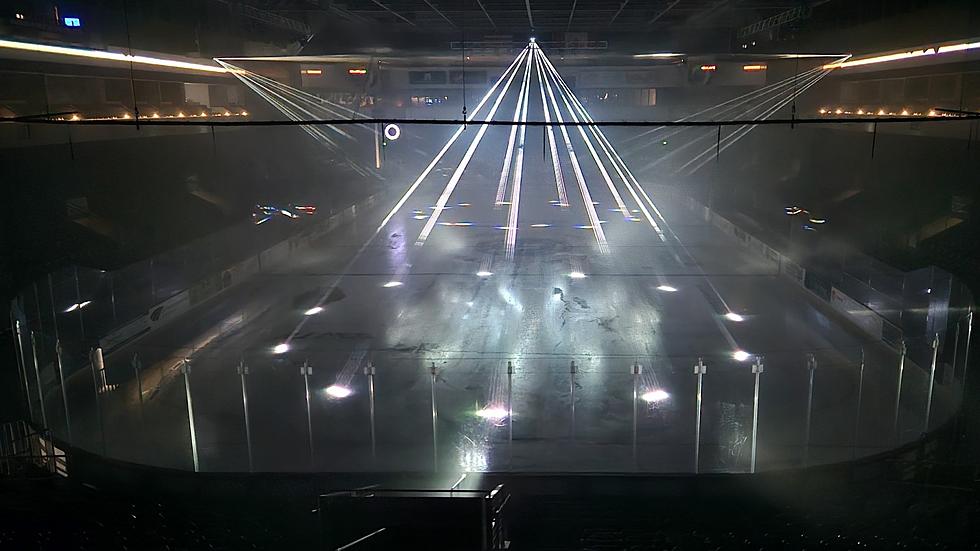 Wenatchee Wild Open WHL Training Camp Sessions to Fans
Town Toyota Center light show Credit: Wenatchee Wild Hockey facebook
The Wenatchee Wild are inviting fans to watch training camp sessions this week at Town Toyota Center.
The organization takes another step towards their first season of  Western Hockey League play this week when players report for preseason training camp.  All players are due to report by Wednesday and the first on-ice activities are scheduled for Thursday, August 31st.
Wild fans are invited to attend all of the on-ice activities free of charge, the first ever for the club as a member of the Western Hockey League.
In a media release, Austin Draude, Wenatchee Wild  Media Relations Manager says the team is expecting 69 players to report for training camp.  The players will be divided up into four teams during the training camp that will practice and scrimmage on Thursday. The teams will compete round-robin tournament style on Friday and Saturday  The training camp standouts will participate in an all-star game on Sunday (see schedule below).  Wild fans are invited to attend any of the practices, scrimmages and games free of charges at the Town Toyota Center's arena rink.
Draude says the preseason camp will also be the first chance for the organization's 2023 Prospects Draft and Import Draft selections to step onto the ice with the team. Both of Wenatchee's Import Draft selections, Kenta Isogai of Japan and Rodzers Bukarts of Latvia, were recently signed to WHL Scholarship and Development Agreements. Caelan Joudrey, the organization's top selection in the Prospects Draft, also signed his WHL Scholarship and Development Agreement earlier in the summer.
2023 Wenatchee Wild Preseason Training Camp Schedule at Town Toyota Center
Thursday, August 31
9:15am – 10:00am              Practice Team 1
10:15am – 11:00pm            Practice Team 2
11:15am – 12:00pm            Practice Team 3
12:15pm – 1:00pm              Practice Team 4
4:15pm – 5:15pm                Scrimmage - Team 1 vs Team 2
5:30pm – 6:30pm                Scrimmage - Team 3 vs Team 4
Friday, September 1
9:30am – 10:45am              Team 1 vs Team 2
11:00am – 12:15pm            Team 3 vs Team 4
4:15pm – 5:30pm                Team 1 vs Team 3
5:45pm – 7:00pm                Team 2 vs Team 4
Saturday, September 2
9:30am – 10:45am              Team 1 vs Team 4
11:00am – 12:15pm            Team 2 vs Team 3
4:15pm – 5:30pm                3rd place game
5:45pm – 7:00pm                Championship game
Sunday, September 3
11:30 – 1:00                          All-Star game
Wenatchee's pre-season opener is Wednesday, September 6th at 2pm vs. the Spokane Chiefs.  Wenatchee hosts Tri-Cities on Saturday, Sep. 9th at 6pm in the first WHL pre-season game in Wenatchee.  Follow the Wild with live coverage this season on NewsRadio 560 KPQ/FM 101.7