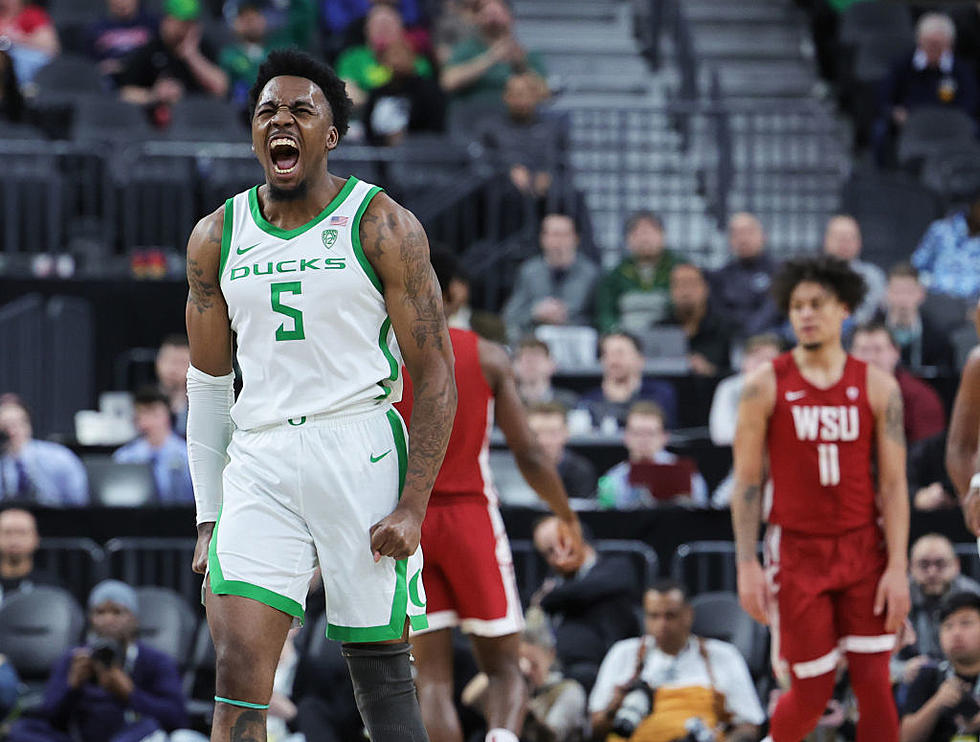 Oregon Closes on 7-0 Run, Beats WSU 75-70 in Pac-12 Tourney
Getty Images
LAS VEGAS (AP) — Keeshawn Barthelemy and Jermaine Couisnard each scored 17 points and Oregon had a 19-point lead erased before closing on a 7-0 run to beat Washington State 75-70 on Thursday in the Pac-12 Tournament.
Fourth-seeded Oregon (19-13), which has won 10 straight games in the conference tournament, advances to play top-seeded UCLA in the semifinals on Friday. Washington State (17-16), the No. 5 seed, had a seven-game winning streak come to an end.
N'Faly Dante added 16 points and 11 rebounds for Oregon, but he rolled his right ankle in the closing seconds and did not return.
Dante had a putback with 1:18 left to give Oregon a 72-70 lead and TJ Bamba didn't hit the rim on a 3-pointer at the other end. The Cougars and Ducks each had a block on the next two possessions, but Dante went to the ground after his block and needed to be helped off the floor. Barthelemy was fouled and he made 1 of 2 free throws for a three-point lead.
Washington State turned it over and the Ducks raced the other way for a fast-break dunk but DJ Rodman blocked it with 10.3 left to keep it a one-possession game. Oregon eventually inbounded it after several timeouts and Rivaldo Soares made two free throws to seal it.
Bamba finished with 19 points for Washington State. Justin Powell added 15, Mouhamed Gueye had 14 and Andrej Jakimovski 10. The Cougars shot 44%, including 11 of 23 from 3-point range.
Washington State trailed by as many as 19 points in the first half but rallied late to get within 38-30 at the break. Carlos Rosario made just his fifth 3-pointer of the season for the Cougars, Bamba made a floater in the lane and Jakimovski added another 3-pointer to cap a 10-0 half-closing run. The Ducks missed their final six shots of the half.
The Cougars opened the second half with a basket by Gueye for his first points of the game. Gueye added a 3-pointer to get within 47-45 with 13:59 left, and Washington State took its first lead of the game with 9:10 remaining on a Bamba 3-pointer.