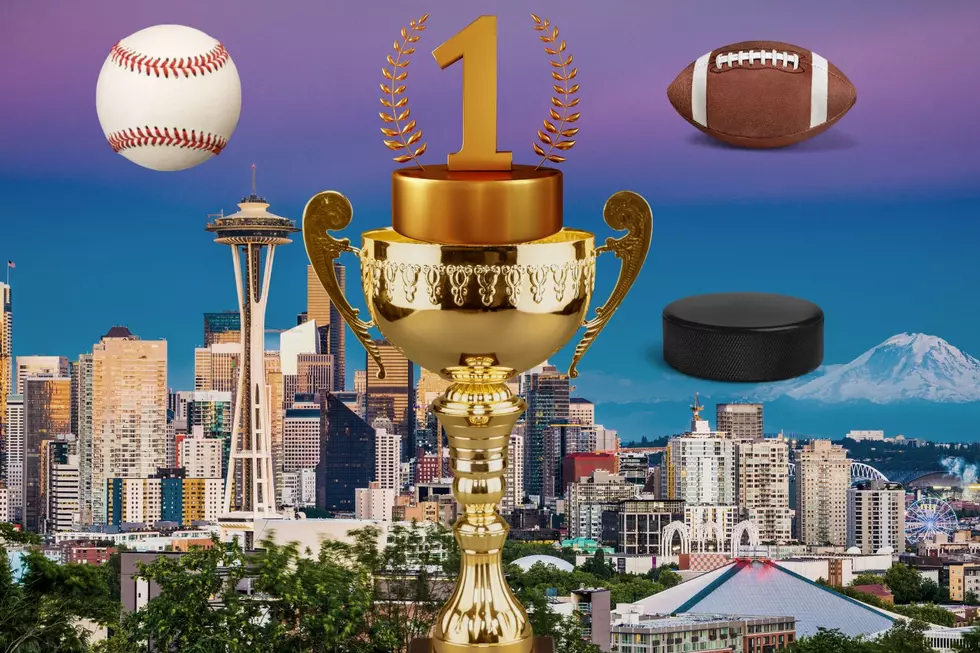 3 Seattle Pro Rookies Make Unreal All-Time Sports History First
Canva-Getty
The city of Seattle might be looking at the best future of any city when it comes to professional sports. 3 Seattle pro rookies just did something that has never been done before!
Seattle Rookies Make World Sports History First
There are 3 new professional sports athletes that have recently started calling Seattle home you should know by now. Together this year, they have accomplished something that no other city in the history of professional sports has done. Their names are Julio Rodriguez from the Seattle Mariners, Tariq Woolen from the Seattle Seahawks, and Matty Beniers from the Seattle Kraken.
Matty Beniers - Seattle Kraken
Matty Beniers has the honor of being the first true NFL draft pick for the Seattle Kraken when he was drafted in 2021. He was drafted 2nd overall and then signed a 3-year contract in Seattle. He scored his first assist after two days with the team and scored his first NFL goal only 6 days after joining the team on April 16, 2022, at a home game against New Jersey. So far in the 57 games played at the time of writing this, Matty has scored 20 goals and 25 assists for a total of 45 points since joining the Kraken according to NHL.com. He was picked to play in the 2023 NHL All-Star game, but was recently injured and will not play according to Sports Net.
Julio Rodriguez - Seattle Mariners
If I have to tell you who Julio Rodriguez is, then you are not a fan of Seattle sports. The Seattle Mariners identified the talent of Julio early and signed him at the age of 16 in 2017. He played in the Minor Leagues as a much younger player before making his MLB debut with the Seattle Mariners on April 8, 2022. Once Julio got going, he never let up. Julio ended the 2022 season with 28 home runs and 75 RBI's according to ESPN.com. He was selected for the MLB 2022 All-Star roster, won the Silver Slugger Award, and was selected as the AL Rookie of the Year.
Tariq Woolen - Seattle Seahawks
Tariq was raised in Texas and played for UTSA in college before being drafted by the Seattle Seahawks in the 2022 NFL Draft. He was a steal selected in the 5th round at number 153 overall. Tariq Woolen may have been drafted in the 5th round, but has played like a top 5 pick all season. The 6-foot 4-inch 210-pound cornerback also runs a 4.26 40 time. That combination of speed and size has allowed him to become a rising star in the NFL and be in the talk for NFL Rookie of the Year. He was selected to play in the 2023 NFL Pro Bowl
3 Rookies from the Same City Make World Sports History
This is the first time in world sports history that 3 different rookies in different sports teams from the same city are selected to play in the All-Star/Pro-Bowl game in the same year. It sounds crazy, but it has never been done in the history of professional sports. I noticed the topic on a Seattle Kraken Reddit forum and had to check if it was real. Yes, it is completely true, and the reason I think Seattle Professional Sports is on the horizon of something really great if you're a fan.
A Bunch of Amazing Celebrities You Know & Love are From Washington
Washington's A-listers, Oscar winners, Grammy winners, and faces of big franchises in one comprehensive list.
These are celebrities that have been born in, moved to, or lived in Washington.