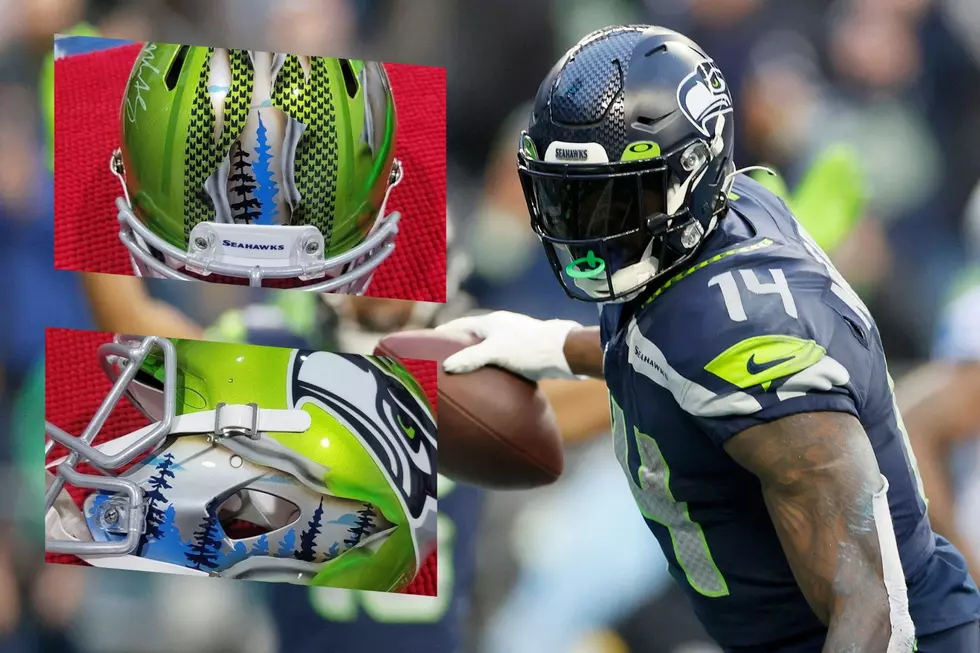 Custom Painted Helmet Will Make You Scream Go Seahawks!
Canva-Getty Derek Ross
If you are a Seattle Seahawks fan and you have not seen any of Derek Ross's work, I would be surprised. You probably have seen it and didn't even know it.
Personally, I think Derek Ross is one of the most talented artists I have ever seen. His work has been all over Seahawks events and fan forums for years. He just painted a custom helmet for a fan that is so smoking hot I just had to share it with you! Check it out!
Derek talks about how difficult the process was working around the helmet blemishes and the Dk Metcalf autograph on the Facebook post. "Custom painted Seahawks helmet signed by DK Metcalf Painting this helmet around the signature was nerve-wracking to say the least! This helmet had many blemishes and had to have a unique design to make this helmet pop with no blemishes. Be on the lookout for many more."
WHO IS DEREK ROSS?
Starting his company "Danger Ross Arts LLC" in 2005, Ross has made a name for himself with Seahawks fans and all over the Northwest. His work has been featured on multiple players "Cleats for Cause" games in the NFL.
One characteristic that makes him special is his art features "photo realistic" detail that you will think is a photograph. If you are looking at art and trying to decide if it was a photo, it was probably Derek's work. He has painted on everything from custom shoes to large creatures featured in a community playground. Here is another sample of his work.
If you are impressed and want him to paint something for you, Derek is available for private bookings. You can contact him here on his Facebook page. Also, check out a large gallery of Derek Ross's artwork below.
See More Amazing Art From NW Artist Derek Ross
Seattle Seahawks Game Images from the 1980's
A collection of images from the Seattle Seahawks seasons in the 1980's.
Seattle Seahawks Vs Chicago Bears Pre-season at Lumen Field Seattle, Washington
Photo gallery of the preseason game August 18, 2022 between the Seattle Seahawks and Chicago Bears at Lumen Field in Seattle, Washington