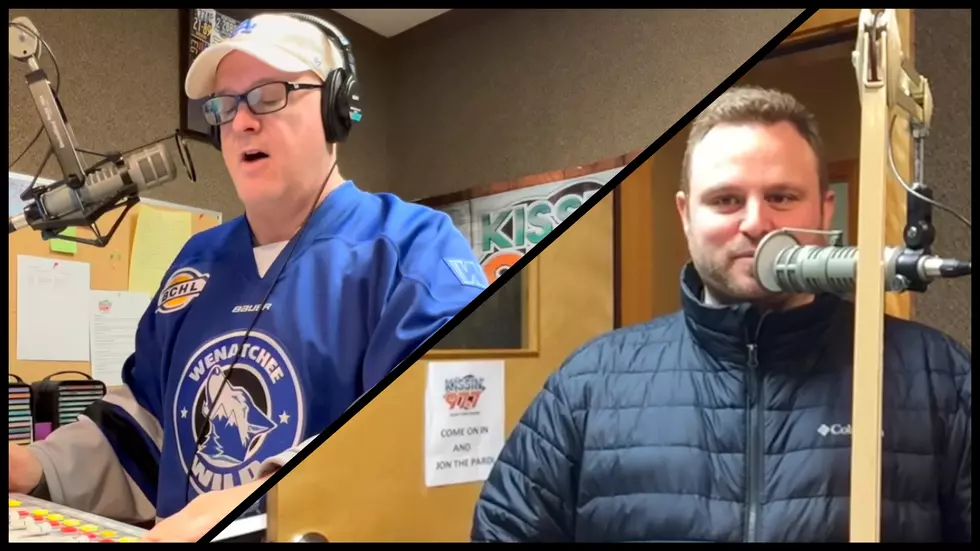 WENATCHEE WILD'S COACH CLARKY TALKS ABOUT HOME OPENER
Photo: Mav3rick
TIME FOR THE WENATCHEE WILD HOME OPENER
Wenatchee Wild's Coach Chris "Clarky" Clark and I are, I guess you can say, good friends! But there's a friendly rivalry between the two of us when it comes to our favorite baseball teams in the MLB. Coach Clarky is a San Francisco Giants fan, whereas I bleed Dodger Blue. So when Coach Clarky stopped by my show, it was the first time we've seen each other for some time. So we both had a lot of badgering to catch up on, with both of our teams not making it to the World Series. "It's a sad day for us because your Giants didn't even have chance at getting into the play offs! And my Dodgers fell apart."
Clarky was quick to answer back, "I don't know why it's a sad day! It was a great day when I heard the Dodgers didn't advance!"
But we did both agreed that it was a major disappoint that the Seattle Mariners couldn't advance in the play offs. But hey! Next year?
So now that baseball season is over for the both of us, it's onward to rooting for our own Wenatchee Wild, as we have the home opener happening Friday night, October 21st at the Town Toyota Center, going up against BCHL rivals, the 2016 National champions, the West Kelowna Warriors. "I can't wait! It's been 8 games to start the season on the road. I know our kids have been itchin' to get home and play in front of our great fans, and we can wait to see of them Friday and Saturday night." 
I asked the Wenatchee Wild head coach about how the team has started off this season. Sometimes it's a slow start, sometimes it's greatness right out of the gate. How are we looking compared to some of the other teams? "We've been playing some pretty good hockey. I know the wins and losses aren't what any of us wanted right now(referring the 3 wins/4 losses thus far), but we have been playing our best hockey in the last three weeks, and we're exciting about our group. I know we're real close to turning the page and getting those wins in the wins column. It always helps getting home and playing in front of the home crowd. That can be the little extra bump to get us going." 
One of my favorite things about going to a Wenatchee Wild game is all the great promotions they have going on. And Saturday's game 'in the Den' is no exception, as they go up against the Penticton Vees. It's Cow Bell Nite! Coach Clarky said, "Yeah! Always one of the most popular nights, Mav3rick. You're gonna want to get there early Saturday night for that, and I'm sure it's gonna be a real big crowd, and we can't wait to see the Wild faithful." And it's going to be a special orange Halloween themed cowbell! I guess you can say it's a pumpkin spice cowbell. By the way, we'll have your Wenatchee Wild tickets all season long to giveaway on your radio. Just keep listening to win! LET'S GO WILD!