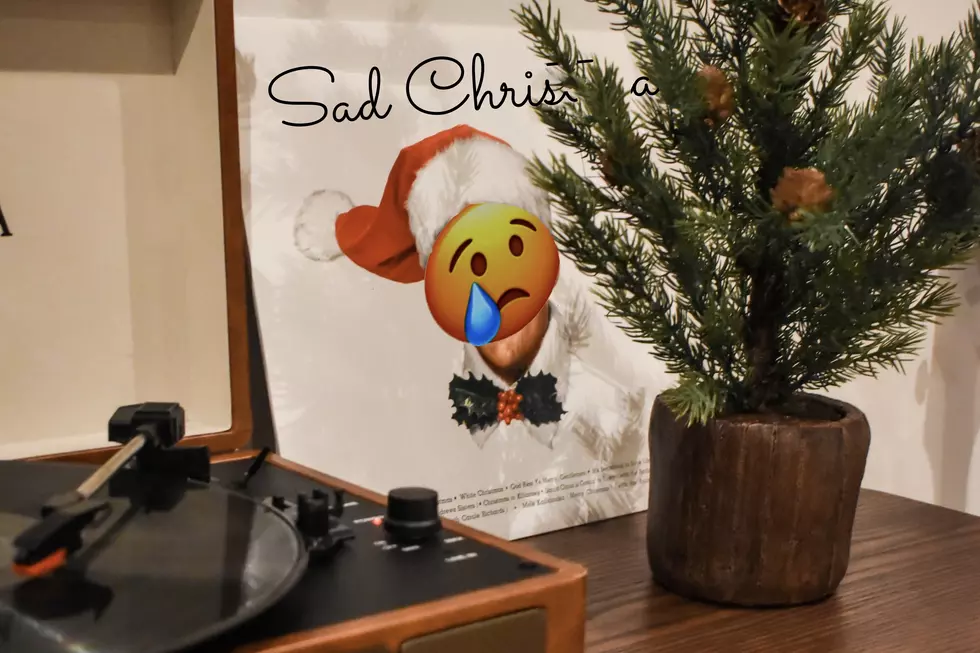 CHRISTMAS MUSIC: The Sad Songs
Unsplash/Jack Goossen Graphics by Mav3rick
CHRISTMAS MUSIC: The Sad Songs
In the past few weeks, we've explored some of the funniest Christmas songs. Even some of the most romantic holiday favorites. So how about exploring some of the more...sadder seasonal songs? Why, you may ask? Because you're requesting, buying, enjoying, and you're even singing along to them! Have you really paid attention to some of the lyrics? Do these sound familiar? Let's start off with the ones we hear every year on the radio.
LAST CHRISTMAS -Wham! Nope. Although she has a great cover of this holiday classic, this wasn't written by Taylor Swift. But it sounds like something Swift would write. And you love it! Seriously. You're at the office Christmas party and it's time for some karoke. Someone always has to do this tune, while everyone else is bobbing their heads and singing along during the chorus. "Last Christmas, I gave you my heart. The very next day, you gave it away." Talk about the ultimate regifter.
 DO THEY KNOW IT'S CHRISTMAS? -Band-Aid From the guy who brought us, I Don't Like Mondays (Bob Geldof), came a song that was recorded by some of the greatest British acts of the 80's like Sting, George Michael, Duran Duran, Boy George, Phil Collins, Bananarama, and Spandau Ballet. A song that wanted to remind you that while you're enjoying a good time, there are others in Ethiopia that are suffering from famine. "The Christmas bells that ring there are the clanging chimes of doom". And who can forget the regrettable line from Bono, "Well, tonight thank God it's them instead of you." But this was a benefit record to raise money to feed the African nation. 100% of the profits to feed the hungry. We're talking over 28 million dollars. No one who was part of the recording made a penny from the record.
BLUE CHRISTMAS -Elvis First, for me this is Elvis parodying Elvis. All the cliche' Elvis moves and the exaggerated swaying of singing. Thankfully it only clocks in at two minutes. I think I prefer to laugh with the Porky Pig parody version.
SOMEDAY AT CHRISTMAS -Stevie Wonder Have you really listened to the lyrics? "There'll be a time we're not playing with bombs. They'll be no wars.  Men will be free. No hungry children. Maybe not in time for you and me. But maybe someday at Christmas". Now in all fairness, this was recorded in a time of turmoil. Heck, there were other songs in the same vain like Silent Night/7 O'clock News by Simon & Garfunkel about the unrest of the 60's. But this Stevie Wonder song is a holiday classic that we sing along with, like it's White Christmas. Buy the way, his song has been covered by the likes of the Jackson 5, Justin Bieber, Jack Johnson, and recently, Lizzo.
CHRISTMAS JUST AIN'T CHRISTMAS -The O'Jays You'd be fooled by the uptempo melody. You'll even find yourself clapping along with the song. But holy cats! "It ain't Christmas without the one you love" "Now I'm staying home alone, my house is not a home without that girl of mine." Then they have throw in a lonely New Year's Eve into the mix as well, remembering the good times a year before. "It was a waste of time."
ANOTHER LONELY CHRISTMAS -Prince If you weren't paying attention, you'd think that this was just another Prince tune. It starts off being…Prince. Reminiscing, smirking with a raised eyebrow, about a former lover and some naughty times. But she breaks her promise of never leaving, and he spends another Christmas alone. Why? Because on the 25th day of December, she died.
CHRISTMASES WHEN YOU WERE MINE -Taylor Swift She's got Mom all worried as she demands Mom to take down the mistletoe because it's just a reminder of someone who she used to love. You know when Taylor Swift says, "I'm fine"…she's not. And when she says, "Merry Christmas", it's just something she'll say with no feelings. 
WHAT DO THE LONEY DO AT CHRISTMAS -The Emotions Well, the singer is about to find out. Despite the fact that Christmas is a season to be jolly, she can't because she has nobody.  And there's nothing that's gonna make her happy. Not even seeing kids play with their toys or the yuletide carols will make it better.
SANTA, I'M RIGHT HERE -Toby Keith Fact. Toby Keith is a manly man. You don't mess with Toby Keith. And if you think you're gonna stomp on the flag of the United States of America, you're gonna feel his boot up where the sun don't shine. So it may come as a shock that Toby Keith has a softer side. Although he didn't write this song, the way Toby Keith sings it, you'd think he lived the story about a Dear Santa letter blowing in the wind, written by a homeless kid worried that Santa won't find him on the streets. But he wants nothing for himself. He wants Santa to bring a coat for Mom. And maybe give Dad a job at his workshop where they build toys for all the boys and girls. 
THE CHRISTMAS SHOES -Newsong This song is both loved and hated. About a small kid that needs to buy the perfect shoes for his momma who is very ill. Needs to get those shoes ASAP. Needs to make momma look beautiful if she meets Jesus. The guy who wrote this sob story is Bob Carlisle. The same guy that made every father with a daughter cry like a baby who needs their diaper changed. Every time I hear Butterfly Kisses…….(Sorry. I can't even write my feelings right now, because as I type this out, I can't even see the screen of my laptop. A flood of tears are flowing from my eyes. OK. I think I'm gonna end this now, and call my daughter just to tell her I lover her so much)